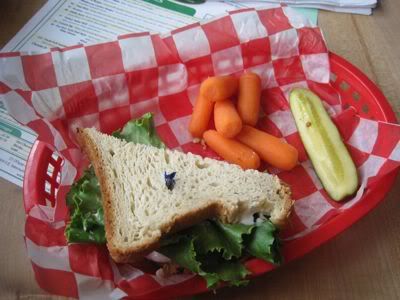 Mix together with a spoon in a small bowl:
5 TBL cornstarch
1 cup water (100* - 110* degrees)
Yeast packet (found in BRM GF bread mix)
When cornstarch is dissolved, pour into large bowl and mix in the following (using spoon or dough hook) in upright mixer:
1 1/8 cups rice milk
1/4 cup vegetable or safflower oil
1 tsp apple cider vinegar
BRM GF Bread mix
Pour mixture into a bread pan and let rise until dough is just above the top of the pan (about 30-40 minutes). Bake at 350* for one hour, rotating pan once during baking. Remove from oven and let cool on a wire rack. Enjoy!
Tip: For lighter crust color, cover pan with tin foil or place a cookie sheet (above the bread pan) on a higher shelf in the oven during baking.

Source: flyer handed out at the BRM visitor center. Copied here because I know I'll lose that piece of paper eventually!