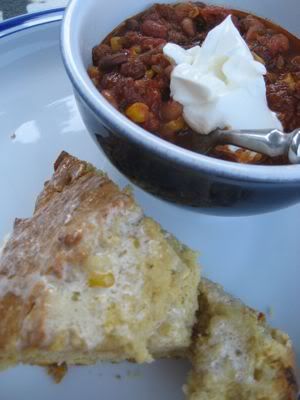 Here is an easy and wonderful turkey chili recipe. Bake up a quick batch of corn bread to go with and you have a great meal! This was a recipe given to me by my friend Mary. I'm not sure if she concocted it herself or got it from somewhere but I've never had anyone turn this down. It's a flavorful and mild chili that perfect for a cool day.
INGREDIENTS:
2 T. olive oil
2 medium onions, finely chopped
2 medium garlic cloves, crushed
1 T. paprika
1/2 tsp. crushed red pepper flakes
1 tsp. ground cumin
1 T. chili powder
1 lb ground turkey
1 (28oz.) can crushed tomatoes
1 to 4 cups chicken broth (depending on how soupy you like your chili)
1 small can of tomato paste
1 T. dried leaf oregano
2 tsp. dried leaf basil
2 bay leaves
2 tsp. kosher salt*
1 tsp. ground pepper
1 T sugar
1 can pinto beans**
1 can red beans**
1 can black beans**
1 can corn**
DIRECTIONS:
In a large saucepan, heat oil over medium heat. Add onions, garlic, paprika, red pepper, cumin and chili powder. Saute for 2-3 minutes.
Add turkey, increase heat to high and cook until meat is cooked through. Place cooked spiced meat into a crock pot with all remaining ingredients. Cook on low for about six hours. Serve hot. Not only is this an easy way to cook chili, the flavors blend together wonderfully and the house smells great!
*If you only have regular table salt, reduce amount to 1 tsp.
** Or substitute in four cans of any type of your favorite beans.