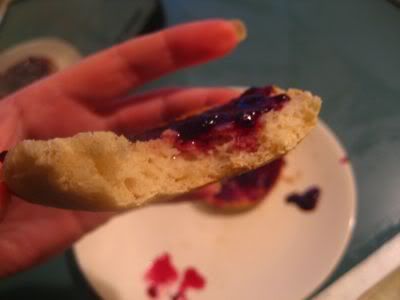 1 ½ cups
Bread Flour Mix
1 tsp xanthan gum
1 tsp dough enhancer (optional)
½ tsp. salt
1 T. sugar
1 pkt. Yeast
¾ cup plus 1 T. water, heated to 110 degrees
1 tsp. canola oil
Mix yeast, sugar and water, set aside. Lightly grease a six-bun hamburger bun pan (each bun form is about 4 ½ inches in diameter). Dust with corn meal or rice flour. Mix all dry ingredients in large bowl of electric mixer. Pour water mixture and canola oil into mixing bowl, mix until just blended. Scrape bowl and beaters, then beat at high speed for 2 minutes.
Spoon dough into prepared pan and spread it out to the edges with a table knife or off-set spatula. Carefully smooth and flatten top of the buns with a table knife. Cover with a light cloth and let rise in a warm place for about 20 minutes. Muffins should approximately double in height.
Preheat oven to 375 degrees while muffins are rising. Place rack in center of oven. Bake muffins for 15 minutes. They should be very light in color and cooked through. Remove from pan and cool on a rack for 15 minutes. Open each muffin by piercing it with a fork around the edges. Carefully pull apart and toast to desired crispness.