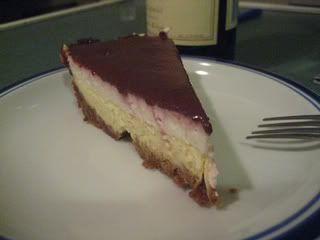 CRUST:
Mix in mixer and mold lightly into a 9" pie pan
1 1/2 cups graham cracker crumbs (I get GF graham cracker crumbs from
Outside the Breadbox, Inc
. They can be ordered, but our local grocery store carries them (in Oregon/SW Washington).
1/2 cup unsalted butter at room temperature (1 stick)
3 tablespoons brown sugar
1 teaspoon cinnamon
1 teaspoon maple flavor (optional)
Bake at 325 degrees for 15 minutes
BOTTOM FILLING:
Whisk together in a separate bowl until just blended.
1/2 cup sugar
1 1/2 teaspoon vanilla extract
1 teaspoon vanilla flavoring (optional)
3 eggs
Use mixer to blend the cream cheese and egg mixture together. Mix until smooth then add flour.
12 oz. cream cheese (at room temperature)
1 1/2 tablespoons GF flour (I use
Authentic Foods Multi-Blend Gluten-Free Flour Mix
)
Pour into crust and bake at 350 degrees for 30 minutes. Remove from oven and let cool for 1/2 hour then make topping.
TOPPING:
Whisk the following in a mixer.
1 pint sour cream
2 teaspoons vanilla extract
3 tablespoons sugar
Once blended pour over filling and sprinkle with cinnamon (optional). Bake at 350 degrees for 10 minutes.
Remove from oven and let cool for at least 1 hour, then refrigerate for a day or at least two hours if you can't stand to wait that long! If making the raspberry chocolate sauce it's best to add it to the cheesecake while it's still warm and before putting into the refrigerator to set. Do not cover with plastic wrap while cooling (even in fridge) as moisture builds up and drips onto surface marring sauce.
OPTIONAL: RASPBERRY CHOCOLATE COULIS:
2 cups frozen raspberries
1/4 cup bakers sugar
1 tablespoon vanilla
Rinse and drain frozen raspberries. Puree in blender with sugar and vanilla. Use a fine mesh sieve to strain out raspberries seeds. Set aside.
2 tablespoons butter
1 oz 87% dark chocolate
In a pan melt butter and add raspberry puree. Turn to low heat. Add in chocolate stirring constantly until melted and throughly mixed with raspberry puree. Add more sugar if too tart or lemon juice if not tart enough. Keep heat on low and simmer (do not boil) to reduce sauce slightly. Remove from heat and pour over top of cheesecake in a thin layer. (You will probably have some sauce left over - it's great on ice cream!)