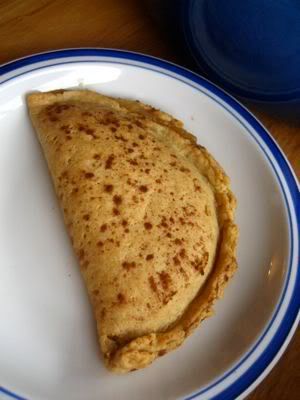 I was craving apple pie and didn't have time to make a whole pie so I had to improvise. Plus I didn't have a huge pile of apples. This works great with just apple sauce on hand.
1/2 stick butter ( 1/4c) room temp. (or butter sub)
3/4 c. sour cream
1 c. wendy warks GF flour mix
1 tsp. xanthan gum
1/8 tsp salt
1/4 tsp cream of tartar
1/2 tsp baking soda
1 TBSP sugar
In mixer bowl combine butter & sour cream until well blended. Add dry ingredients. Mix until a ball forms. Wrap in plastic wrap & chill.
On a lightly floured parchment paper, roll dough into several thin 5 inch circles.
For each turnover:
A scoop of applesauce
A scoop or two of brown sugar
A sprinkle of cinnamon
lemon juice
grated ginger
a sprinkle of quick cooking tapioca
In a seperate bowl add applesauce, cinnamon and sugar. Mix.
Put a scoop of this on to one side of each turnover, fold dough over and seal edges.
Brush over the top of folded turnover:
vegenaise
soy creamer
The top can be brushed with a combination of Vegenaise and Soy creamer whipped together to make into a thick cream. Brushing this will allow the to pastry brown nicely.
Sprinkle with cinnamon
Bake 350 for approx 25 min.