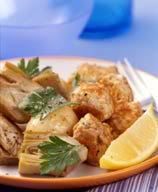 This Mediterranean-inspired main dish is brimming with a medley of tastes: savory lemon, pungent oregano and tender artichoke hearts. I loved this recipe but thought it could've easily been doubled - two people ate 1/2 of this in one sitting! It's super easy and yummy!
Ingredients
1 sprays cooking spray
1 pound uncooked ground turkey breast
1/2 tsp table salt, or more to taste
1 tsp ground sage
8 small uncooked new potatoes, scrubbed, unpeeled
12 oz frozen or canned artichokes, hearts
1 tsp dried oregano, crushed
1/4 tsp black pepper
1 cup canned chicken broth
1 Tbsp cornstarch
1 Tbsp fresh lemon juice
Directions
Coat a 12-inch nonstick skillet with cooking spray.
Season turkey with salt and sage; shape into 1-inch balls. Add turkey to skillet and brown on all sides, about 3 to 5 minutes; remove and place in 4- to 5-quart slow cooker. Add broth to hot empty pan to release the browning. Then add to the slow cooker.
Add potatoes, oregano, and pepper; cover and cook on high heat for 3 hours. Add artichoke hearts and continue cooking for 2 to 3 more hours.
About 15 minutes before serving, spoon cornstarch into a cup. Add 1 tablespoon of the slow cooker liquid and lemon juice; stir well. Stir into slow cooker, cover and cook on low heat for 15 minutes more. Yields about 1 2/3 cups per serving.
Servings | 6
Preparation Time | 20 min
Cooking Time | 360 min
Weight Watchers