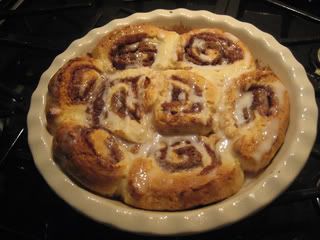 Once you get the hang of these they're a snap to make and I look for excuses to have them... even the rest of my gluten guzzling family looks forward to (and requests) these treats!
This is out of
The Gluten Free Kitchen by Roben Ryberg
. However the tip about how to easily work the dough was stolen from
Alton Brown's Good Eats*
. He's by far and away my favorite TV foodie guy... science meets food meets dork. I'm in love... shhhh! Don't tell DH on me!
By the way, the notes below in
Italics
are my own opinions or comments...
-----------------------------------------------------
These cinnamon rolls will not quite make you forget those you used to buy at the mall, but these are nice. Please follow the unusual techniques carefully when you make these rolls. Enjoy!
INGREDIENTS
2 Tablespoons Shortening
(If you can have butter it can be subbed in here, or alternately you can use Earth Balance)
1/4 Cup Sugar
2/3 Cup of Milk or milk substitue @ room temperature
It should be warm enough to help activate the yeast!
1 Packet Yeast (about 1 Tablespoon)
1 Egg
Egg can be left out, it doesn't change the recipe that much. You might want to consider using an egg replacer though
1/4 Cup Canola Oil
1/2 Cup Potato Starch
1 Cup Corn Starch
1/4 Teaspoon Baking Soda
2 1/2 Teaspoons Xantham Gum
2 Teaspoons Baking Powder
1/2 Teaspoon Salt
1 Teaspoon Vanilla Flavoring
FOR TABLE TOP
1 - 2 Tablespoons Sugar
FOR FILLING
1 Cup Brown Sugar
1 1/4 Teaspoons Cinnamon
1/3 Cup Chopped Nuts - Optional
DIRECTIONS
Preheat oven to 375 degrees. In medium bowl, combine shortening
(or butter)
and sugar. Mix well. Measure warm milk and and add yeast to milk. Whisk well to fully dissolve. Add milk/yeast to sugar mixture. Add remaining ingredients. Mix very well, being sure to remove all lumps. Dough will be quite soft.
(*Here's where Alton Brown's ingenious tip comes in super handy!)
Take a piece of Plastic Wrap and lay it out so it covers a 13 1/2" x 13 1/2" square.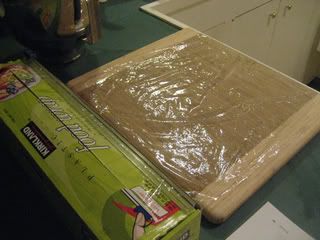 Sprinkle sugar on the wrap. Lay ball of dough on top of that. Then pull out another sheet of wrap and gently lay over the dough.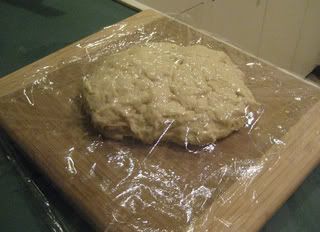 Pat the dough down into a rough squarish pancake. Lift the top wrap up and relay it down. Use a rolling pin to roll out the dough in between the two layers of wrap. Note that occasionally you'll have to lift and reposition the wrap because it gets "stuck" under the edges. I also occasionally flip the whole thing over. Make sure that when you're done you've got about a 13 1/2" x 13 1/2" square of dough. Remove top piece of wrap.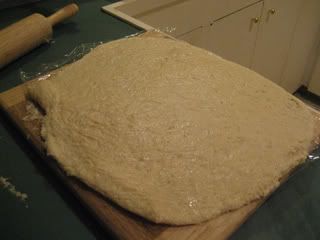 Combine sugar and cinnamon. Spread evenly across dough's surface.
(I leave about a 1 1/2" sugar free edge because when you roll the dough all the sugar shifts and fills this in. Otherwise all the sugar spills out - oh no! And if you don't have a sweet tooth use less sugar than the recipe calls for; sometimes it can be a bit much)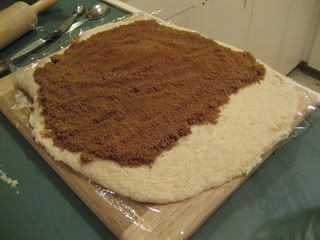 Use the bottom piece of wrap to lift the edge of the dough and start to roll it up forming a long cylinder.
(Start with the sugary edge, which will be the center of your roll and roll toward the sugarless edge)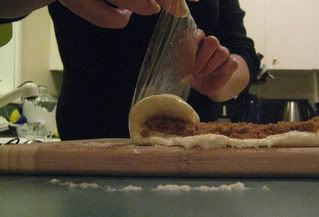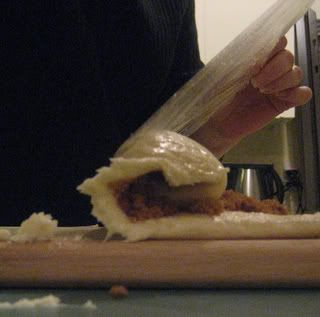 Cut off or trim up the irregular ends of your "log".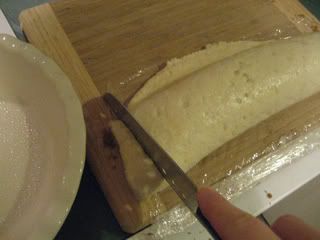 Then cut into 9 slices of similar size, about 1 1/2" wide. Place rolls into a greased round glass pie pan.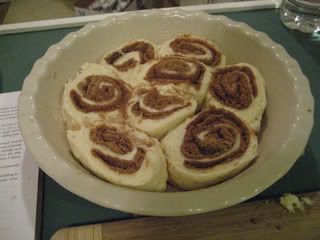 Bake approximately 20 minutes, until tops are lightly browned.
Combine powdered sugar, milk and vanilla flavoring to make glaze. Stir until all lumps are dissolved. Drizzle over warm rolls if desired.
Makes 9 modestly sized rolls. Serves 9.
These are lovely with coffee in the morning. They're very light and fluffy - not too heavy or dense. I've also discovered that you can make these the night before and stop short of baking them. Wrap them up in their pan or glass dish and leave them in the fridge for the night. The next morning you can take them out and bake them and they come out just the same! I've found that this is a great thing to bring to a friends house for brunch. I just pop them in their oven - and you've got a great GF contribution and you know there's no cross contamination!
305 = Calories
10g = Fat
25mg = Cholesterol
54g = Carbs
2g = Protein
3g = Fiber
301mg = Sodium