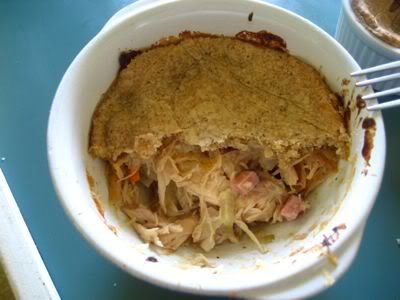 I can't recall now where I found this recipe but it's really worth the effort to make - it's the most divine chicken pot pie!
INGREDIENTS:
* 2 bone-in, skin-on chicken breast halves (12 to 14 oz. each)
* Coarse salt and ground pepper
* 3 tbl olive oil
* 4 carrots, sliced 1/4" thick
* 1 medium onion, finely chopped
* 1/4 teaspoon dried thyme leaves
* 1/4 cup all-purpose GF flour (I use
Wendy Wark's GF Flour Blend
)
* 2 1/2 cups rice milk
* 1 package (10 oz) frozen peas, thawed
* 2 tbl fresh lemon juice
* Favorite
GF pie crust recipe
1. Preheat oven to 400 degrees. Place chicken on a rimmed baking sheet; season with salt and pepper. Roast until an instant-read thermometer inserted into the thickest part of breast (avoiding the bone) registers 165 degrees, 25 - 30 minutes. Let cool slightly; discard skin and bones. Shred meat and set aside. (Or if you have left over chicken from another recipe that isn't overly seasoned it can be used)
2. While chicken is roasting, heat 2 tbl oil in a large saucepan over medium. Add carrots, onion and thyme (or other favorite seasonings); season with salt and pepper and cook until carrots are crisp-tender, 8 - 10 minutes. Add flour and cook, stirring, 1 minute. Gradually add milk, stirring until smooth. Cook, stirring occasionally until mixture comes to a simmer and thickens.
3. Remove from heat; stir in peas, lemon juice and chicken, and season with salt and pepper. Pour filling into a 9" deep-dish pie plate. (Alternately individual ramekins can be used.)
4. Roll out pie crust dough and cut out an 11" circle. Place dough over filling and press down about 1/2" from the edge so dough fits inside rim of pie plate. Bake until golden and bubbling, 20 to 25 minutes. Let potpie cool 15 minutes before serving.