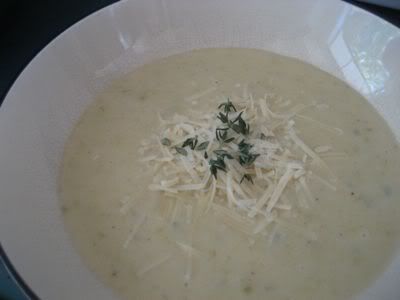 I made a potato leek soup today with potatoes, leeks and thyme from the garden. This soup came out smooth, creamy and delicately delicious. It's my own creation.
INGREDIENTS:
1 cup sliced leeks
5 - 6 potatoes, peeled and chopped (yukon gold is a good choice)
Salt and Pepper
1 - 2 TBL butter (or butter sub)
Chicken stock
1 Garlic clove crushed
1 teaspoon Mustard
1/2 cup Sour cream
Fresh thyme
Put leeks, potatoes, salt, pepper and butter in a soup pot, sautee for a few minutes till the onion is soft.
Add enough stock to just cover the potatoes. Set it to simmer. While simmering add a clove of garlic, a teaspoon or two of mustard. Simmer till the potatoes are cooked through. Turn off heat. Add two teaspoons of fresh thyme.
Take off the heat and put it in a bowl mixer with a whisk. Add about 1/2 cup of sour cream and whisk till smooth. Add more broth or water if it's too thick. Garnish with parmesan cheese and fresh thyme. Or for a heartier version...
2 lbs bulk Italian sweet pork sausage
1 bunch Kale
In a separate pan sauté bulk Italian sweet sausage until browned. Add in sliced chopped kale to taste. Cook till kale is wilted. Add to finished potato soup. Garnish with parmesan cheese and fresh thyme.