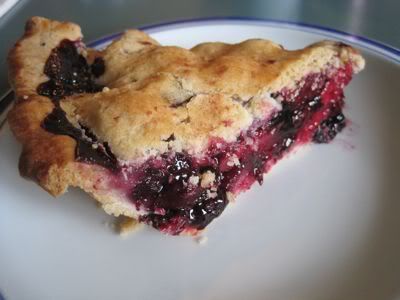 This was the pie I made for a summer gathering of family. I didn't quite get it made soon enough for it to set up properly but it was tart and warm and with ice cream scooped on top it was the perfect sweet compliment. I'll definitely be making it again! Of course I've made modifications to be GF/DF/EF...
1 cup granulated sugar (or more if berries are too tart)
2 tablespoons cornstarch
3 tablespoons quick-cooking tapioca
1/4 teaspoon salt
3 cups fresh blackberries (3/4 to 1 pound)
2 cups fresh raspberries (1/2 to 3/4 pound)
2 cups fresh blueberries (1/2 to 3/4 pound)
1 teaspoon lemon zest
GF Pie Crust
2 Tablespoons Soy creamer (I use
Silk Soy Creamer - French Vanilla
1 Tablespoon
Vegenaise
OPTIONAL:
sanding sugar
cinnamon
Special equipment: a 9-inch metal or glass pie plate (4-cup capacity)
Accompaniment: Any alternative milk ice cream like frozen dessert.... rice dream, soy ice cream, etc.
Put a large baking sheet in middle of oven and preheat oven to 450°F.
Whisk together granulated sugar, cornstarch, tapioca, and salt, then toss with berries and lemon zest.
Roll out 1 piece of dough into a 13-inch round and fit into lightly greased pie plate. Trim edge, leaving a 1/2-inch overhang. Chill shell while rolling out dough for top crust.
Roll out remaining piece of dough on lightly floured surface with floured rolling pin into an 11-inch round.
Spoon filling into shell, then cover pie with pastry round and trim with kitchen shears, leaving a 1/2-inch overhang. Press edges together, then crimp edge decoratively. Brush top of pie with Veganaise and Creamer mixture (should be smooth and the consistency of heavy cream). Sprinkle all over with sanding sugar and or cinnamon. Cut 3 steam vents in top crust with a small sharp knife.
Bake pie on hot baking sheet in middle of oven 15 minutes, then reduce oven temperature to 375°F and continue to bake until crust is golden brown and filling is bubbling, about 45 minutes more.
Cool pie on a rack at least 3 hours before serving to allow juices to thicken slightly (filling will still be juicy). This is the hardest part of this recipe.
Adjusted the following recipe to accommodate my diet
Gourmet | August 2003
Active time: 40 minutes Start to finish: 6 hours(includes making dough and cooling pie)
Yield: Makes 8 servings
Active Time: 40 minutes
Total Time: 6 hours
Original recipe at Epicurious.com