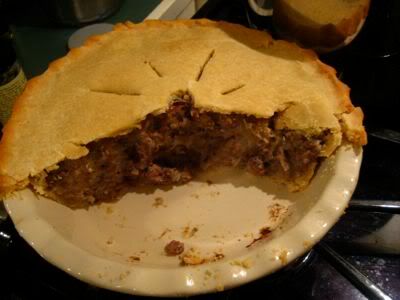 This is a recipe my from my mother's side of the family. It was her maternal grandmother's. This kind of pie is known as pâté à la viande (literally, meat pie) in the Saguenay-Lac-Saint-Jean region from which my ancestors hail. My mother would regale us with tales of her large French Canadian family coming home after midnight mass on Christmas and eating this dish and drinking Port wine till the wee hours of the morning while the children ran around and played under the table. Our family makes it every year on Christmas Eve still. It is the continuing tradition of the region to this day.
PIE CRUST
Follow directions for your favorite
pie crust recipe
1 tsp flour
1 egg (or a combination of Vegenaise and soy creamer whisked together to make a thick cream)
1 TBL water
FILLING
1 1/2 lb ground pork
3/4 lb ground veal*
1/2 tsp. salt
2 TBL sage leaves
2 cloves garlic, minced
1 dash nutmeg
1/8 tsp ground clove
1/4 tsp allspice
1 dash pepper
1 large onion, chopped (3/4 cup)
2 cups mashed potatoes
*This is how it appears in the original recipe. You can sub out the veal with regular lean ground beef for the same taste.
GARNISHES
Pickle relish
Honey mustard
DIRECTIONS:
Make sure you have mashed potatoes on hand or start a pot boiling for potatoes while you cook the meat.
In a large skillet combine pork, veal (or ground beef), salt, sage, garlic, nutmeg and pepper. Cook over medium-high heat until lightly browned. Add chopped onion. Simmer until all moisture has steamed out of the pan. Remove from heat, drain out excess oil/fat. Stir in mashed potato and let cool.
Prepare pie crust according to directions for a two crust pie. Heat oven to 425*. Spoon filling into crust lined pie dish. Cover with second crust. Slit crust in several place to vent.
Beat egg with water; brush egg mixture over top of crust to make a nice glaze. Or use a combination of Vegenaise and soy creamer whisked together to make a thick cream to bush onto crust to make a nice glaze. Bake at 425* for 25 to 30 minutes or until golden brown.
Serve with port, pickle relish and mustard.
Serves 6 to 8