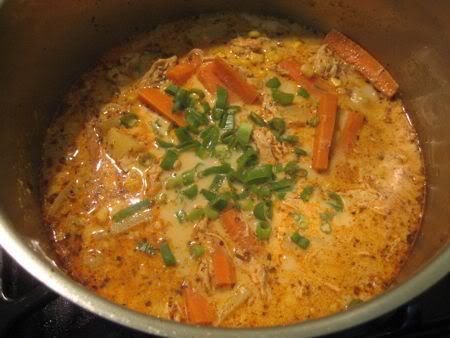 INGREDIENTS:
1 boneless/skinless chicken breast OR 6 chicken tenders
2 tbl butter
1 scallion, white and green parts separated, thinly sliced
1 medium carrot, halved lengthwise and thinly sliced
1/2 tsp chili powder
1/2 tsp dried oregano
course salt and ground pepper
1 baking potato, peeled and cut into 1/2" pieces
1 package (10 oz) frozen corn kernels (I use a can of corn and it turns out just fine)
1 can (14.5 oz) reduced-sodium chicken broth
1/2 cup of 2% milk
1/2 cup of 1/2 & 1/2
Tabasco or chili powder (for optional heat)
DIRECTIONS:
In a medium saucepan, melt 1 tbl butter over medium heat. Brown chicken on both sides. Remove. Add 1 tbl butter and white part of scallion, carrot, chili powder and oregano; season with salt and pepper. Cook, stirring occasionally, until scallion is soft, about 2 minutes. Add chicken back in along with potato, corn, broth, milk and 1/2 & 1/2.
Bring to a boil over medium-high, and reduce to a simmer. Cook until potato is easily pierced with the tip of a knife, 15-20 minutes. Remove chicken and shred; return to pot. Stir in green part of scallion and season with salt and pepper (and other spices if you want it more flavorful or heat). Refrigerate in an airtight container up to about three days.
This was a recipe I altered slightly from a recipe out of Martha Stewart's Everyday Food Magazine. This is also excellent with a side of cornbread. It freezes well too so if you want to double up the recipe and freeze some for "easy dinners" later on it makes it convenient. As a last note the chicken could easily be removed for a vegetarian version of this chowder which is basically the original recipe.