One chicken, four meals: a post for a friend of mine who was asking about meal planning. Okay, here's an easy one! Makes about four meals. And to make the second one vegetarian you could sub out the chicken and use tofu or squash instead. Sauté it first so it browns then add the onions and the rest of the ingredients.
MEAL ONE - CROCK POT CHICKEN
One whole chicken
1 onion
2 carrots
2 celery stalks
1 - 2 lemons
2 cloves of garlic
1/2 cup italian salad dressing
Sprig of fresh rosemary if you have it
white wine (optional)
Rinse the chicken, take out the little baggy of innards, pat dry and rub the inside cavity with a bit of corse salt.
Corsely chop the onion, carrots, celery and lemon (in quarters).
Put half the lemon in the chicken along with a handful of whatever veggies will fit.
Put the rest of the veggies and garlic on the bottom of the crock pot. Place the chicken breast side down over top.
Drizzle salad dressing over chicken, trying to lightly coat the whole thing. Put rosemary spring on top of chicken.
Cook on low for 8 hours or high for 5-6.
I usually nuke peas with this meal and if you make mashed taters ahead of time they can be frozen and nuked back to life or just reheated depending on if they've been it the fridge or freezer. If you have a little more time roasted veggies are also delish with the chicken.
To make a nice sauce for the chicken defat the broth and add a 1/4 cup of white wine to about 2 cups of broth. Puree the carrots and onions that were cooked with the chicken and whisk with the wine broth mixture. Pour over chicken.
MEAL TWO
This will give you at least another night of left overs.
MEAL THREE - TACO LASAGNA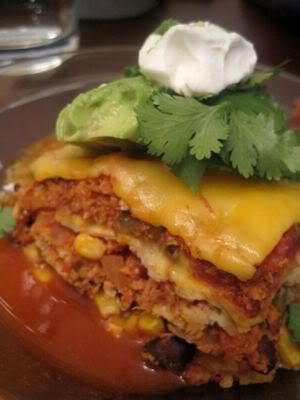 Precooked chicken meat
1 tbl olive oil
1 onion
2 cloves minced garlic
1 pack of taco seasoning (or a mix of your own seasonings like dried cilantro, dried oregano, ground cumin, paprika, chili powder, ground red pepper, salt, black pepper, garlic salt, etc)
2 tbl lime juice
1 small can of tomato paste
1 14 oz can of chopped tomatoes with juice
1 small can of mild roasted green chilis
hot pepper sauce to taste (optional)
1 14 oz can of corn
1 14 oz can of bean (black, pinto, red or any kind of refried)
corn tortillas
cheddar cheese
fresh cilantro
fresh lime wedges
avocado
sour cream
hot sauce
Debone and shred the chicken, you should have about two cups left from prior meal.
In a large sauce pan add chopped onion and saute till soft. Add chicken, garlic, taco seasonings and saute for another two or three minutes. Add lime juice and let cook off. Add tomato paste, chopped tomatoes, roasted green chili's. Add hot sauce here if desired. Let simmer till everything is hot, about 6 minutes.
In a 8"x8" glass baking dish put a large spoonful or two of the chicken mix to the bottom of the pan and spread around. Add a layer of corn tortillas, a thin layer of cheese, a layer of beans and whole corn. Keep layering up till you run out of chicken. (End on the chicken layer - it should be on top)
At this point you could stop and put it covered in the fridge if you need to make it ahead of time. It could easily be baked later in the evening.
Bake on 350* for 1/2 hour (45 minutes if you've had it in the fridge). Last five minutes of cooking add cheddar cheese to top and bake long enough to brown slightly.
Let cool a little bit so it sets up. Cut slices like lasagna and garnish with cream cheese, avocado, lime wedges, cilantro and hot sauce.
MEAL FOUR
Should be at least one night of left overs.