I like a lot of Streusel Topping on my apple crisp, and this recipe has lots! There's plenty, even if you use a shallow pan. If you like less topping, halve the streusel recipe. This is also a nice sweet treat for breakfast!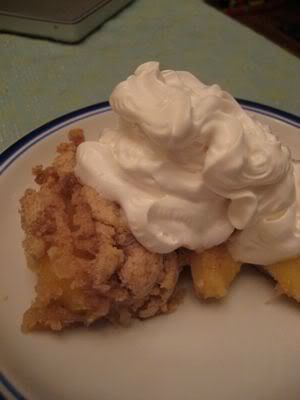 STREUSEL TOPPING
½ cup shortening (or butter at room temp)
¾ cup sugar
½ cup potato starch
¾ cup cornstarch
2 tsp baking powder
½ tsp salt
1½ tsp xanthan gum
¼ cup milk (or less - add last otherwise it can lose it's "crumble" and turn to sticky dough)
1 tsp cinnamon
APPLES
5-6 medium apples, peeled, cored, chopped (about five cups)
1½ TBL cornstarch
2 TBL sugar (use a bit more for tart apples)
¼ tsp cinnamon
(I also add a splash of lemon juice and up the spice)
DIRECTIONS:
Preheat oven to 375°. In medium bowl, combine all Streusel Topping ingredients. Mix to form small clumpy pieces. If you overmix, you may simply break off small pieces of the topping to form small pieces. Set aside.
In large bowl, combine apples, cornstarch, sugar and cinnamon. Toss to coat well. Put apple mixture into lightly greased pie plate or 1½ quart casserole. Top with streusel mixture.
Bake 35-40 minutes until apples are tender and streusel is browned.
NOTE TO SELF:
Next time try adding cranberries and walnuts with a little bit of lemon zest to the apple mixture before baking. A teaspoon of tapioca is good too to help keep it thick and not get too watery.
Yields: Serves six
Source: Roben Ryberg's The Gluten Free Kitchen